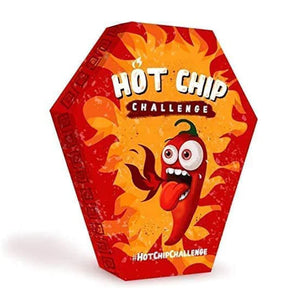 Extremely hot tortilla chip, which is packed in a special package to maintain the highest spice levels and freshness!
The package also includes a protective glove to handle the chip, hot-chip sticker and a unique challenger card for sharing the HOT-CHIP challenge with other friends.
What is a Hot Chip anyway?

Hot Chip is the hottest chip in the world. These are classic tortilla chips, which at first glance may seem like any other. Thanks to the unique mix of spices, it is the hottest potato in the world, and its consumption will be etched in your memory for the rest of your life.
How long does it take to burn? And is it safe?

The spices you will find in our chips come from the Carolina Reaper – the queen of chili peppers herself. On the Scoville scale, its hotness ranges up to 2,200,000 SHU, which rightly makes it the hottest chili pepper in the world. To top it off, we added spices from the Trinidad Moruga scorpion pepper - another hottest pepper in the world!
Prepare first aid in the form of milk and bread. After eating a chip, a really wild ride begins, which from your point of view will not end. But you can be reassured by the fact that the most intense and stinging burning will last 5-10 minutes.
If in the process you find that you can't anymore, you can try bread and milk. These two things can reduce the intensity of the burning.
The power of chilli first attacks your tongue and gradually spreads throughout your body. It simply won't work without tears and sweat.